Daniel Amoatika
ELECTION OF MISS BULUK 2016
The 2016 edition of Miss Buluk, christened the Nallem Clothing Platinum Edition of Miss Buluk, took place on 2nd January, 2016 at the Goodfamily Lodge. It was on the theme "Re-igniting the passion for community development: efforts of a people through culture". The event was sponsored by Nallem Clothing Ltd, Bulsa Community Bank and supported by Kyro Clothing and Navro Clothing GH.
The event began with the glamorous red carpet at 8:30 pm, and the main event started at 10 pm. This year's edition was the best yet with Bulsa North and South evenly represent ed. Contestants gave patrons an exciting performance of the Bulsa Culture: from the local grinding mill (nanzung) to Nagela dance.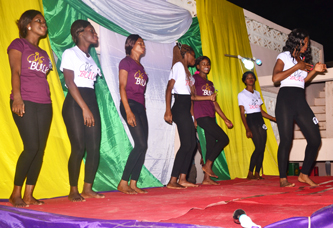 The seven contestants
The contestants were:
Adom Portia (Gbedema)
Ajabuin Georgina (Wiaga)
Akusung Augustina (Gbedema)
Haruna Baraka (Chuchuliga)
Atiim Sheila (Sandema)
Ayaamba Beatrice (Sandema)
Kate Lamisi Asemiteng (Fumbisi)
On the main agenda for the night, contestants presented a range of problems affecting the Bulsa District using the SMART [Specific, Measurable, Achievable, Realistic and Time-bound] approach. Some of the issues brought to the light were: 
Widowhood rights
Declining respect for the elderly
Domestic violence
Alcohol/drug induced violence in an election year
Declining rate of cultural values
Alcohol abuse by the youth (Zoum nyiem, the recipe for change)
Child marriage
From left to right: First Runner Up (Portia Adom), Miss Buluk 2016, Second Runner Up (Kate Lamisi Asemiteng), Mr. Nathaniel Adjagsa, a member of the Motion Crew organisers
Upon impressing the panel of judges with a presentation on alcohol abuse by the youth (Zoum nyiem, the recipe for change) in the districts, Miss Georgina Ajabuin, a level 300 student of the University of Cape Coast, was crowned Miss Buluk 2016.
Miss Portia Adom, a former student of the Bolga girls Senior High was adjudged the 1st Runner Up and Miss Kate Lamisi Asemiteng, a former student of the Accra Polytechnic, adjudged the 2nd Runner up.
Panellists were Mr Evans Atuick, a lecturer at UDS, Mr Dominic Achincok, a medical Student and Miss Patience Azure, Upper East representative for Ghana Most Beautiful.
Some of the dignitaries in attendance were Mr Thomas Alonsi, Hon Bonaventure Adangabey and Mr Richard Ajuick.
On the night, citations were presented to most promising BECE candidates Bulsa North/South and Best Performing JHS Bulsa North/South. Hon. Alhassan Azong (MP for Bulsa South Constituency) will sponsor the Most promising BECE candidate Bulsa South to the Tertiary level, and a desktop computer for the best performing JHS Bulsa South.
Aside the electrifying cultural display by the contestants, the Bolga Police Band added flavour to the event, lyrically supported by talented underground artistes: Fase 2, Drag B, Zaazy, Capochino, Kobik and host of other acts.
The winner will continue the Hepatitis B campaign in the Bulsa North before continuing with her own project.
Mr Evans Atuick is handing over a 24 inch LED

television set to Miss Buluk
This event was supported by
Dr Clement Apaak
Mr Pascal Ayaric
Hon. Alhassan Azong
and sponsored by
Nallem Clothing Ltd
Bulsa Community Bank Ltd