Taken from the flyer for the burial, memorial and thanksgiving service
Monica Adzagbil (Obituary)
15th August 1956 - 8th February 2015
Madam Monica Ambagnya was born in Yiwasi on 15th August 1956 to Agoyebe Adzagbil and Ayaripo. She started her primary education at the Yiwasi Local Authority Primary School but had to stop abruptly after two years due to the death of her mother. She later moved to Fumbisi (Kasiesa) to live with her aunt and subsequently enrolled at the Fumbisi Local Authority Primary School to continue her elementary education.
From Fumbisi L.A. Primary School, she continued to Sandema Middle Boarding School between 1966 and 1970. Upon successfully obtaining her Middle School Leaving Certificate in 1970, she stayed on with family relations in Sandema for about two years to support them in their business activities before proceeding to Accra in 1973.
Monica as a young girl
In Accra, Monica lived with her senior brother at Maamobi-Nima for a while before finally moving to Madina in 1974. In September that year, she gained official employment with the Ghana Civil Service through the Department of Rural Development at Okponglo (which later became Department of Rural Housing and Cottage Industries). While working there she undertook a number of courses in Telephone Operations (PBX-Private Branch Exchange) with the Post & Telecommunication Corporation of Ghana. In 1978 she was put on the Grade of Telephonist at the same Department.
In February 1992, she was posted to the head office of the Department Community Development when the Civil Service was re-structured in preparation for constitutional rule and the Fourth Repubic after years of military rule. During that period at the head office, she also undertook other courses in reception, telephone interchanges, public service ethical behaviour, etc at the Civil Service Training Centre, Cantonments!
An articulate, charismatic and strong personality, Monica always discharged her duties effectively and also maintained good inter-personal relationships with her colleagues and bosses. These and similar factors culminated in the conversion of her Grade to Assistant Community Development Officer (ACDO) in September 2006. In that position, she was nominated to take part in a number of training programmes on
Monica and her children:

Standing from left to right:

Analie, Monica, Anaab;

sitting: Anabil and Anapok

Monica and her grandchildren
Ethical Leadership, Community Entry and Citizen Engagement processes – organized by the Office of the Head of Civil Service. Also, as a result of her success in
the Special Qualifying Examination organized by the Public Services Commission, she was promoted to the Grade of Mass Education Officer in December 2011. In May 2012, Monica was posted to the Greater Accra Region where she had a brief attachment with the Ga East Municipal Assembly – Abokobi before finally being posted to the Adentan Municipal Assembly.
Monica was a strong member of the Civil and Local Government Staff Association of Ghana – CLOGSAG (formerly Civil Servants Association of Ghana). She was very a visible and strong activist in most of its activities, which earned her the accolade "ECOMOG" by her colleagues. Due to her dedication to the Association, she was honoured with the Best Activist Award in 2009 when CLOGSAG launched its national Activist Award.
She was always hardworking and very enterprising even in her private life. She manifested these traits by engaging in trading activities in Madina from the late 1970s to the late 1990s to augment her salary. She became very popular in Madina during the early days of the 31st Revolution (Rawlings' second coup) when household commodities were very scarce and those available were to be sold at "control" prices. She had constant supplies of these commodities through her networks and most retailers came to her for supplies. Thus, she attracted a lot of attention within the system as her sources of supplies were "questionable" to the authorities. As a result, she was picked up on several occasions by the security forces (CDRs, Militia and Regular Police/Military) interrogated but released through similar networks within the system.
Monica and her friend Agnes Asanglisa Chigabatia
Monica was a devout Catholic and dedicated most of her private life to Church activities. She was baptized and christened Monica (mother of St. Augustine) during her school days at Sandema Middle Boarding school by the Catholic missionaries of the Wiaga Catholic Parish. She received her first communion and confirmation during the same period.
When she first arrived in Accra, she joined St. Kizito Catholic Church in Nima where she was instrumental in the establishment of the St. Martin de Pores Builsa Society, which also had a choir. She held various positions in the Society and discharged her duties diligently. During the same period, she also visited St. Michael Garrison Catholic Church – 37 Military Barracks, where she played a key role in the singing group which later became a choir.
It was during these visits that to St. Michael Garrison Catholic Church – 37 Military Barracks that she met Mr. James Bukari of blessed memory (then residing at the Legion Village, close to Opeibea house – 3) who later became her husband and moved to Madina in 1975. The couple had 4 lovely children (Analie, Anaab, Anabil and Anapok).
Monica was very religious and had strong faith in God. She believed in the doctrine of the Catholic Church and took her children to Church every Sunday and to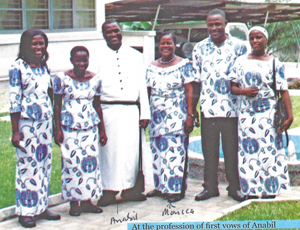 Monica at her son's (Anabil) profession of first vows
some of the week-day Masses. She ensured that her children went through the various sacraments of the Church's tradition and also identified themselves with the various societies in the Church. She played an active role in the Catholic community meetings which were vibrant in the 1980s and 1990s (at Community 9 and later Community 2). She had an annual ritual of providing food and drinks for most parishioners during Easter picnics and special feast days.
Monica Adzagbil is survived by four children, two grandchildren and several adopted children and grandchildren.
Chritiana Akpilima Atibil, a schoolmate and close friend of Monica Adzagbil had this to say about her friend
"..You knew everybody who was somebody at the Ministries in Accra. I received a scholarship to go abroad for further studies but did not have the contacts to facilitate my acquisition of a passport, and you helped me to get on You also helped me to renew it periodically. I was out of a job and desperate and you used your contacts and networks to secure me one so that I could feed my family and live in dignity. During the days before cellphones, you kept me and my relations connected by by helping me to communicate with my friends and family in Ghana and abroad. When I needed any type of information, you were the go-to person. In fact, we sometimes called you CNN, BBC, and GBC behind your back. Some of my friends even referred to you as the Minister of Information.
I was bereaved and you came to console me. You made time to attend all community events – outdoorings, weddings, etc. I was admitted at the hospital and you came to visit me. When I travelled abroad you were always there at the Kotoka International Airport to see me off. I remember you always trying to stuff my already packed suitcase with food items such as fresh okro, garden, eggs, peppers, gari, and kenkey. Even though I protested about the excess weight, you insisted that I needed to have Ghanaian food on arrival. And of course, you were a loyal friend and sister, and a beautiful, hardworking, strong, reliable, savvy, and smart woman. You also had that in-your-face-talk-truth-to-power quality about you that often irritated people....
Monica's legacy continues also, to a large extent, through the people that she touched during her life, the people that she helped, supported, consoled, connected, and celebrated with.
Monica, Lariba (as you always called me) and the family out here in Indianapolis, Indiana wish you a smooth transition. May you rest in perpetual peace till we meet again."