UNDER CONSTRUCTION
Introduction  
In 2012, my assistant, Yaw Akumasi Williams, and I created the copies shown below by photographing the originals at the National Archives of Ghana (Accra). For technical reasons they are published here in two parts. More than 70  of the 551 reproduced sources  (in part I and II) are still unusable or are very difficult to read, because, in WordPress, they lack the clearness needed for reading, although all of the original copies are clear and easily readable.
As an aid to reading the largely handwritten sources, I have begun to include transcriptions, explanations, and/or comments in blue printed letters below the sources (with preference to the unclear copies).
(NAG 1) F.K.: (14.5.15) Approvement of  Ampusuba, elected chief of Fumbisi, by Chief Commissioner N.P., Armitage
(NAG 2) 13.11.1914, trial: man convicted of stealing money, Kanjaga (Wheeler), theft of 22 lb in Kanjaga; one year imprisonment with hard labour;  text is continued in NAG 3-5.
F.K.:  NAG 3 – 4: ctd.
F.K.:  27.5.13: small medallion for new chief of Kanjaga
(NAG 6-11) 7.5.1912: Prov, Comm. Warden in Kanjaga; old Kanjaga chief Addachuro is deposed; 25. April  1912: Ankanab (Ankanaba) unanimously elected new chief;  27. April: small medallion for new chief
F.K.:  (1912) Trade routes in Gambaga District; including Yagaba – Kintampo – Kumasi
 F.K.:  NAG 13-15: cattle kraals, water for cattle, dams, cattle-routes (Bulsa not included)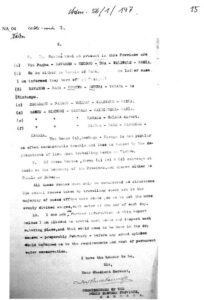 NAG 15 new
F.K.: Cattle-route from Navrongo via Tamale to Kumasi     
  F.K.: … the present chiefs of these villages (Wia, Sandema, Senissi and Kalarsi) are descendants of the grandson of Wurume; 27.5.1919: There are three canoes at the Passinkwia – Kunkwa crossing of the Volta run by Passinkwia
  F.K.:  Census and sections of Navrongo
  F.K.: NAG 20-29     Navrongo, Census, Sections… (1901- 1921)
F.K.:  16.9.24:  Visited – no palavers –  met head chief of Sandema Afoko and told him to get all his people busy cleaning the roads, especially the Navoro – Sandema road partly under him. R.H. nw in better condition since repairs have been made, but the walls of the cpd (?) like all the R.H.s still need replastering. Road from navronog + Chuchuliga very sodden swamping. People weree at work weeding it. 
  F.K.: 17 July 1926, Kanjaga, Ampoba removed from  Chiefship for failing to assist the Government over Rinderpest and telling lies re the movement of cattle. His uncle Ageyiri is to stop in Navrongo for 6 months for same offence.  The messenger angesoba received a sentence of 6 months … H.L. for same offence. The new chief should be a strong man. —  Whittall
20 August 1926:   Ayamkom Kanjaga elected Chief.   He had a following over 200 compound owners and 380 men as againsst his rival Azambadi Kanjaga who had a following of 51 compound owners and 79 men… Ayamkom is a middle-aged man and looks strong though a bit curly. Azambadi  Kanjaga was a very old man in its doting stages. There were not other competitors.  — Akamkom Kanjaga in the presence of Head Chief Awe of Navrongo was told that he was elected Chief on 3 years probation. Head Chief Awe assured me that Ayamkom would be of great assistance to him. — signed…      …
(F.K. Ed.) 19.1.27 Ayamkom destooled: 6 months I.H.L for failing to report an outbreak of Rinderpest; also headman Adaambe deposed
1.2.27: From this date Chuchuliga (less Nyangania Section) will be under Sandema as all the people so concerned are Builsas.
The Section of Nangania, now partly under Chana, will entirely pass to that Town as it is all Kassena. signed … AgCNP [Acting Commissioner of the Northern Province]
23.2.27 Confirmed by Chief Commissioner letter No 158/57/19;
1.3.27 [Chuchuliga] Election of new chief held in presence of P.C. and Ag. P.C. Chiefs of Sandema, Siniasi, Chana and Kadema present. Achangalsa elected on one year probation.
6.3.27 Nyangania Section officially handed over to the Chief of Chana -no dissentients
18.7.27 Visited [Chuchuliga] R.H. [?] in good order but full of mosquitoes. Chief suffering from Guinea worm.
4.8.27 …people complain that they do not get fair play in the Chief Sandema's court….
545: (Navrongo? Chuchuliga?)) 10 August 1928 This town is a den of thieves. They have stolen a lot of sawn timber being brought to Navrongo. The town is fined 500 bundles of firewood (which is for brickburning) and the chief will remain in the H.Q. until this is brought in
Achangalsa the chief is "suspect" of is warned that if anything else goes wrong he will be removed. Whittall, CNP
27.1.30 Agalaga headman of Nawalsa complained that some compounds failed to follow him. Warned. The headmanship of the Nawalsa section is doubtful. The chief is to report on my next visit.
F.K.: 23/24-3-25  Cattle sickness reported- Jatia  section. — Akanjabo Hman- Chondem section has a private grudge against one Akukumaka and family, warned not to bring false palavers against them.
(NAG 42) Navrongo: 1-12: names and locality of headmen
(NAG 55 continued on NAA 56)  demand for European manufacturede articles; revenues during 1906 and 1907; Navrongo market: most cloth disposed is of European manufacture, but also Moshi cloth; new markets have been opened in Kanjaga [Bulsa] and Grunshi towns.
(NAG 56, continuation of NAG 55) 1907; V. Currency: British silver has greatly increased in circulation during the  year; people are eager to obtain British silvers, … also in Kanjaga [Bulsa]… towns, though cowries… still remain the chief medium of exchange; VI. Chief vegetables: guinea corn, millet, ground nuts;  in smaller numbers: yams, maize, rice, okros and native beans; only for local consumption; — dawa-dawa, shea butter….
(NAG 67)  Navrongo Districct Report, 31.3.1907; the  Aacting Chief Commissioner Gambaga; Foreign Relations: he asks for horses from Ouagadougou; Father Chollet the new superior of the Roman Catholic Mission arrived. State of District: troubles with people of the triangle Bolga- Tono- Nabrigo; people meet the constables with bows and arrows. 
(NAG 71)  Chief Commisioner (Gambaga): District Report September 1907; 6. Revenue: Cassava tax: lb 53-14-6 (more than Sept. 1906)
(NAG 73) Commissioner of Navrongo; monthly report February 1907; (1) 200-250 free labourers for 7 days to the Mission of Navrongo;  (2) State of country: people near Sapari hills giving troubles
(NAG 80) Navarro 19th July, 1912; questions about tolls and trade routes; signed Nash, Acring Commisioner, NE Provinces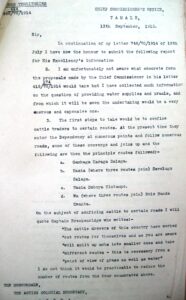 NAG 81
(NAG 102) 26 Oct. 1908. Biu [Biuk], a small town on the main road Tong to Samori. Chief (Na) says he was made chief by the Mamprusi chief of Korugu (South of Volta).  He is paramount to no other town. Probably 220-30 carriers would be raised. Biu is responsible for the main road north of the river … The people have worked well.  signed Nash D.C.
(NAG 105)  Chuchuliga April 1916 – March 1917: Constant complaints against Agabu, who is brought in to stay in stay in Navarro until further order… 15.4.: visited; Chief made a false accusation against one Anyama [?]  …chief warned;  
NAG 106
(NAG 107) 
(NAG 109) Kanjaga: Attabila his linguist and not his son is a rascal
30th May 1910: Big palaver held. Seniority of chiefs explained. The following chiefs present: 1. chief of Kanjaga, 2… of Siniesie, 3… of Wiaga, 4… of Kardema, 5…  of Sandema, 6… of Fambiersie, 7… of Weasie (Mamprusi), 8… of Doninga, 9… of Uassie
After Babatu raided the land all towns were broken up with the .. (?) and of Sandema, who repulsed him. Most of the people of the other Kanjaga towns  fled to Sandema … one followed the chief of Kanjaga after.  
The following chiefs vote for Sandema: Sandema, Karademia, Sinienssie, Wiaga; neutral: Doninga, Bedemma, Uassa; follow anyone appointed.
Jan. 1913: visited; Chief complains that a headman Ankanan does not follow him. Ankanang has a large following of his own.
NAG 113
(NAG 117) Kunkwa: L. Castellain D.C. visited two compounds. 
Dec. 1922: Afawko has been of my great assistance to government in recreating labouir for the… (?). He really willingly does everything he is called to do, he is not assessed (?) by the chiefs but notwithstanding worked hard to get Builsa country in good well (?)…
NAG 126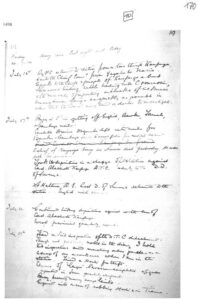 NAG 170 new
NAG 209 new
NAG 219 = NAG 135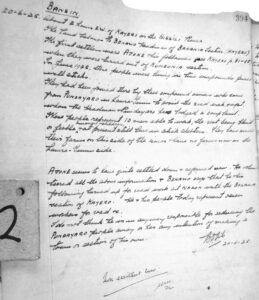 NAG 273
(NAG 293) Commissioner in Gambaga; 2.9.46; visits on 28th and 29th August