Franz Kröger
(based on a biography provided by Atimbas Akangu Kazi)
JOHN KWAME AKANYABADEK ABOALIK
Obituary
(Based on a biography provided by Atimbas Akangu Kazi)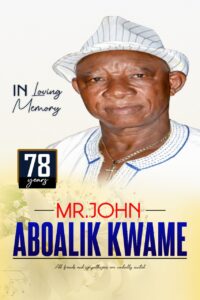 The late John Kwame Akanyabadek Aboalik, affectionately called Aboalik Kwame, was born in 1944 at Manpong (Ashanti) to Baba Issaka Asaamoning Antalibasi of Sandema Abil-Yeri and Nmma Aboka of Kunkwak in the Yagiba-Mogduri district.
Aboalik Kwame attended Ayieta Primary School (Sandema), but he dropped out of school after class 6 due to a lack of interest in school. He travelled all the way to Walewale on foot and was later found by a cargo driver who helped him get to Kintampo and then to Kumasi.
While in Kumasi, Aboalik Kwame sneaked into cinema halls to watch live performances by musical bands. Shortly thereafter, he began waking every morning to help clean the cinema halls for his breakfast.
He was brought back to Sandema on many occasions, but he always strove to find a better life elsewhere as it was unbearable for him to remain in Sandema.
When he was living on his own in Kumasi, an old driver met him and, after listening to his story, decided to take him home and take care of him. The old man taught him how to drive and later bought him a taxi which is when his life began to turn around.
HIS DRIVING CAREER
After coming back to Sandema, he was employed as a council driver under the Builsa district assembly, and later he worked as an articulated truck driver in various towns.
In 1991, after travelling to Obuasi in search of a better living, he found employment in the mining industry. Due to his excellent work attitude and driving skills, he was made the chief driver of the Obuasi Mines. He also served as a role model, teacher and a guide to many individuals through his driving career. Musah, now an excellent driver in Kumasi, Okesie, now driving in Techiman, and his nephew Mohammed Akachaabwona (Awella), now in Sandema, all benefitted from his mentorship and training to become drivers.
Out of passion for the development of Buluk, he was able to work with other drivers and spearheaded the formation of the Ghana Private Road Transport Union (GPRTU) station in Sandema. The GPRTU established the so-called "Aboalik Kwame Station" to help in the transportation of people and goods to and from Kumasi.
He served as local station chairman for the GPRTU, Builsa North.
HIS MUSICAL CAREER
Having taken after his father, who was a local guitarist (kpornuk [kpanung?] nagrik), the late Aboalik Kwame was smart when it came to learning how to play musical instruments.
As he was exposed to watching live band shows, he developed an interest in live band music. Through watching and little interactions, he was able to learn how to play different musical instruments; however, it was the guitar he mastered best.
Despite little support, the late Aboalik Kwame worked hard to form a musical band of his own. They played at several shows and entertained many people in many parts of both the Upper East and Ashanti region. Unfortunately, a thief made off with his instruments, and the band members went their separate ways.
As a determined person and someone who had a great passion for music, the late Aboalik Kwame released five hit albums. On these albums you will find hit songs like:
Nab Azantilow, Buluku meena, Jabarimu nying, Awaale, Felika naamu, Ndek yua kaa kumu, Nya nkanje, Niche te wa, Trust in Jesus, Fi boru nya, Ti kaa luk chaaba and Fi ma aka boa.
His last album cemented his spot as the greatest musician in the whole of Buluk. Aboalik Kwame always wowed audiences on any stage he ever stepped on, even in his old age. He was featured on the famous Miss Buluk and Miss Feok stages on several occasions where his electrifying performances were talked about by many.
Kwame Aboalik was the head of the Akanigwie Family. He died on 24 April, 2022, at the Sandema Municipal Hospital.
MAY HE REST IN PEACE